JAHG Volume 10 Number 1
Journal of the American Herbalists Guild
Title: Ayurveda in Nepal, Volume 1 Editors: Vaidya Madhu Bajra Bajracharya, Alan Tillotson, and Todd Caldecott
2010 Wasteland Press, hardcover, 340 pp.
ISBN: 978-1600475023 Price: US $59.95
Reviewer: Kevin Spelman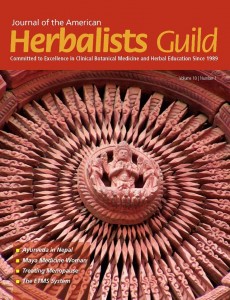 In 1947 the British rule of India ended and the citizens of India were left to self-govern. Not only did this change the face of India drastically, but it saved the then-dying philosophy and science of Ayurvedic medicine. Up to that point the British had attempted to stamp out the Ayurvedic philosophy and system of health/medicine by closing the Ayurvedic schools and frowning on practitioners who practiced this ancient art. And they were almost successful.
Not only were valuable ancient texts lost during the colonial rule of India, but some suggest that the real essence of Ayurvedic medicine was lost as well. Many educated Indians do not know even the basic principles of Ayurveda; others are embarrassed by this ancient healing art because of a perceived lack of modern and scientifically based roots. Fortunately, in 1971 the Indian government restored Ayurveda to its rightful place, declaring it to be India's official state system of healthcare. There have been groups through the past couple of decades who have worked to translate the available ancient texts of Ayurveda into other languages, including English. A less common, but worthwhile and daunting project has been translation of the traditional Ayurvedic healers'/doctors' experience. It is here that Madhu Bajra Bajracharya, Alan Tillotson, and Todd Caldecott contribute to preserving quite valuable, but increasingly rare information – the notes and writings of a Nepalese Ayurvedic physician.
Bajracharya, Tillotson, and Caldecott have taken on the challenge of illuminating the teachings of Vaidya Mana Bajra Bajracharya of Kathmandu, Nepal, (know to his Western patients as Dr. Mana and the father of Madhu Bajra Bajracharya) for English speakers despite the significant difficulties associated with language translation. While there are a few spots in the text where the writing is not fluid, transferring ideas, concepts, and even paradigms from Nepalese into English is certainly not an easy undertaking.
The book starts with the short, but intriguing, autobiography of Vaidya Mana Bajra Bajracharya, born in 1930 in Nepal, who was initiated into Buddhist priesthood at the age of 7 and consecrated at the age of 24. Dr. Mana went on to study Ayurvedic medicine continuing a seven- century family tradition; his grandfather was a specialist in spiritual healing, his father a specialist in Ayurvedic Internal Medicine (Kayachikitsa Tantra). At the age of 17, after completing his studies of Sanskrit, Dr. Mana started on the classic Ayurvedic texts: Charaka Samhita, Susruta Samhita, Madhava Nidana (diagnosis), Madanapala Nighantu (botany and pharmacology) and Rasatarangini (chemistry). After continued training over the next decade which included drawing and painting medicinal plants, traveling widely to collect medicinal plants, and using clay to sculpt models of the human body (an informative but increasingly rare form of learning), he started his formal practice of Ayurveda at the age of 27.
By 1969 Dr. Mana started training Westerners in both Buddhism and Ayurveda in Katmandu. In 1972 he became probably one of the first Ayurvedic teachers to come to the U.S. and speak about Ayurvedic medicine. On his return to Katmandu he started a clinic for foreigners. This is where Alan Tillotson met him due to a health crisis in 1976 and became his student. In addition, Dr. Mana worked on the development of a farm to perpetuate valuable plants and create economic stability for farmers. He eventually became the chairman of the Nepal Ayurveda Association and soon started publishing a series of books on Ayurveda. Due to a daily schedule which included four hours of study and writing as well as his clinical work, he published 47 books. Alan Tillostson and Madhu Bajra Bayracharya assisted in the publication of the first translated edition of the 47 books, Ayurvedic Opthamology. In 2004 Todd Caldecott joined forces with Tillotson and Madhu Bajra Bayracharya to help in translating this work, Ayurveda in Nepal: The Teachings of Vaidya Mana Bajra Bajracharya.
The book is divided into three sections: I. Foundations and principles of Ayurveda; II. Summary of the Ayurvedic Materia Medica; and III. Summary of Ayurvedic Diagnosis and Treatment. The first section includes a refreshing discussion on the origin of Ayurveda by a renowned Ayurvedic doctor from a long lineage of Ayurvedic doctors. This section with its seven chapters reviews the basics of Ayurveda but with a unique approach where Pitta is correlated with the elimination of cellular waste through the venous system (thus Pitta is seen as accumulating in the veins) and Kapha is associated with the arteries due to the movement of nutrients through the arteries. As one might expect, Vata is associated with the nervous system, but with a primary focus on regulating blood/tissue dynamics. While this scheme is different from classical Indian Ayurveda, this is an authentic perspective, one that comes from a seven century-long familial tradition. The geographics of this particular Ayurvedic tradition must be considered. Nepal, sandwiched between India and China, is influenced by traditional Chinese medicine, as well as by the Ayurvedic system.
Section II of the book contains two chapters and covers Dravya Guna (Ayurvedic Pharmacology, Chapter 8 ) and materia medica (Chapter 9). The materia medica is unique considering the current trend to make herbal medicines predominantly about what simplistic (models based on single constituents) pharmacological investigations have revealed. Rather, the monographs on plant species are briefly done in a refreshingly traditional manner. There are some unique indications for some of the herbs, again demonstrating that this work is the result of clinical experience rather than a repackaging of previous texts. For example, amalaki (Emblica officinalis syn. Phyllanthus emblica) is listed as primarily a Vata tonic. While there is ample reason to think this medicinal plant is useful for the treatment of Vata conditions, many Ayurvedic students have learned this plant as primarily a Pitta tonic.
In addition to the materia medica listings there is also a listing of bhasmas and formulas. The listings of bhasmas, generally unknown to the western herbalist, is a gold mine of relatively unexplored remedies and adds significant value to the materia medica section. The section on formulas includes both original formulas from Mana Bajra Bayracharya and traditional formulas from various authoritative texts. The formulas section does not mention indications; these are found later under disease conditions. The formulas presented also do not provide proportions. As a result, recreating these formulas is not practical for the practitioner. Providing the information that would allow practitioners to create the formulae themselves could prevent overreliance on manufacturers and keep herbal medicine accessible to a wider audience, due to cost issues. Section III of the book goes into disease pathologies (rogas) and contains 16 chapters covering everything from fevers to pediatrics to eye, ear, nose, and throat diseases. These descriptions are concise, and as such will enhance the understanding of those with previous understanding of Ayurveda. The brevity of the disease descriptions sections is likely due to the fact that an experienced practitioner such as Bayracharya, especially in a constitutionally-based model such as Ayurveda, would not want to define a pathological condition with only one or two treatment options. Rather, the treatment would be highly dependent on the vikruti (current imbalance) and the underlying prakruti (constitution) of the patient. Thus, the need for interpretation based on clinical experience and the many options in treatment that arise from constitutional considerations are a theme in this section.
The disease section also includes an informative description of over 20 types of fevers (chapter 11). For those intrigued by the identification of doshic imbalance and physiological patterns this is quite useful. This section alone should remind the reader that Ayurveda is exceptional in its energetic assessments of imbalances/ diseases. Other chapters that deserve mention are those discussing diseases of the heart (chapter 15), kidney diseases (chapter 17) and diseases of tissue metabolism (chapter 22). These contain some distinctive ideas put forth by Dr. Mana and contain information that is valuable to those in clinical practice.
Overall this is a notable and much-needed work; Madhu Bajra Bayracharya, Tillotson and Caldecott are to be commended for taking on a daunting task. It can be argued that too much of the 'knowledge' that is being transferred from complementary alternative medicine teachers to students is based on a limited period of clinical work. In this case, Vaidya Mana Bajra Bajracharya's work, informed by a long lineage of authentic practitioners, represents a lifetime of study and practice using the Ayurvedic system to treat serious disease conditions. Ayurveda has clearly traveled a great distance within the United States. Fortunately, long gone are the days of schools training people in Ayurveda and then discouraging them from any sort of practice. Thanks to the National Ayurvedic Medical Association (NAMA) there are now guidelines in place that facilitate the Ayurvedic student in utilizing their learned craft. In addition, because of Ayurveda's association with Indian spiritual traditions in the United States, which is not always the case in India, the guru model of teacher/student is often used in U.S. Ayurvedic schools. This inevitably leads to 'guru wars' in which one branch of Ayurveda is thought to be superior to other branches of Ayurveda. For example, disagreements have been expressed about different methods of reading the pulse, one method supposedly more authentic than another method.
The subcontinent of India includes a significant amount of people, nationalities, cultures, geography and climatic conditions. It is expected that there will be different "traditions" of Ayurveda that make their way to the Western countries. The student of Ayurveda will do well to recall this as they journey through various teachers, schools and texts. Ayurveda in Nepal is unique in its teachings, I hope that these writings will not be lost in the politics of Ayurvedic organizations. Rather this book should be seen for the authenticity, unfortunately rare, of its source. It does have a place in furthering the skills of Ayurvedic clinicians.
---
Review by Aaron Leff
Over the years I have become resigned to ordering all of my books on Ayurveda from India — a lengthy and expensive process and always with mixed results. It is amazing to have a book of this caliber published in the West and without the need to know Sanskrit, Hindi or Nepalese. Ayurveda in Nepal is truly a treasure because Dr. Mana, a world-renown clinician, was the holder of an Ayurvedic lineage spanning centuries. The formulas and treatment protocols he presents have been tested not over many years but over many generations. Because this work documents long-standing and successful clinical Ayurvedic approaches to a plethora of real-world conditions I have no doubt that this book will be of great use not only to practicing clinical herbalists but also to ethnobotanists, medical anthropologists, as well as pharmocognosy and biomaterial scientists in the fields of drug discovery and research.
Aaron Leff Dipl.ST Honors
Clinical Herbalist, Yoga and Pranayama Therapist