In the summer of 1976 I had been travelling in the East, and had contracted severe dysentery in Afghanistan. I had lost almost 80 pounds. My diary from July 10 reads:
Just got out of the hospital today. I've been suffering extreme hypoglycemic reactions for a week now. Though advised by friends and doctors to fly home, I have decided to continue because it would be such a shame to end the trip like this. I must control the diabetes despite the dysentery which is wreaking havoc with me. The lack of drinkable water is the most disturbing thing. Though not happy, I have not been sad either. My decision to continue was hard, because there are people on the bus who do not want the responsibility of my sickness. This is understandable and justifiable, and I hate to be a burden to anyone. I pray I cause no further trouble.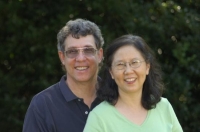 I was travelling in a red Mercedes bus driven by a young American couple named Chris and Mark, who lived in Kathmandu Nepal. Chris came to me after my stint in the hospital and told me that she and Mark had decided it would be better if I flew home as soon as possible. – they were afraid I would die by the time we reached Pakistan. Then they told me about a doctor they knew, a miracle doctor in Kathmandu they called Dr. Mana. I convinced them to let me continue on to meet this doctor.
When we arrived, I set out for Dr. Mana's clinic. From the (former) King's palace it was only a short walk to Mahaboudha, the concrete Buddhist shrine which lends its name to a small surrounding area. Less than one hundred paces from the shrine was the entrance to Dr. Mana's compound.
I had to stoop down to pass under a brick arch which opened into a flat earthen courtyard. To the right was an open room. I walked up the lone concrete step to enter. To one side were cabinets displaying bottles with Nepalese characters on the labels. I sat down in the small waiting room.
When Dr Mana entered, I guessed his age to be in the early forties. He was wearing a clean white cotton outfit. His face was angular. There was a small scar barely visible above his mouth. He was wearing brown glasses with square frames which looked as if they had been repaired many times. The forehead was flat, typical of the mountain people of Nepal and Tibet.
He said, "I am Dr. Mana. What can I do for you?"
"I've been having some problems with diarrhea and dysentery, and I am very very weak."
"Your diarrhea is no problem. I also have medicine for energy. "
I quickly nodded approval. He lead me to a cotton-covered table and checked my stomach. The examination seemed short and precise. He called to an assistant and gave some instructions in Nepalese. In a few minutes I was holding two envelopes formed out of old newspapers. One contained some brown powder and the other crudely formed pills.
Dr. Mana said, "The powder is for diarrhea. You take it in boiled water three times a day before meals. You will be better in four or five days if you are careful about your diet. You must completely avoid greasy, heavy foods and over-ripe fruits. This time of year the fruits are very bad for health. Take the other medicine two times a day, morning and before bed. Come back in five days for a check-up."
I paid a few rupees, said thank you and left. The whole encounter had been surprisingly quick. Within a few weeks I regained most of my strength, and I decide to stay on and study with Dr Mana., a study I continued by long distance until my dear teacher entered into eternity in January of 2001.
My last in person meeting with Dr Mana was in 1996. At that time he showed me a large collection of works he has written in Sanskrit. After Dr Mana died, I made the decision that I would try to work with his son (Dr Madhu) and translate some of these works into English.
The present manuscript has taken many years to get to its present point. The most difficult part of this has been to change the words so that the resonate with English readers, but do not change the meaning This requires much explanatory detail, which in turn can make the book arcane. After about three years of initial work with Dr. Madhu, I decided to enlist the help of my brilliant young friend Todd Caldecott. Tood took the ball I handed him and ran with it,
There remains a vast library of knowledge still in Kathmandu. Its preservation is vital to the world of medicine. Think of this – a single medical family, with roots going back 700 years, to this day is running a clinic that has healed tens of thousands of patient of the most serious diseases, including cancer and multiple sclerosis. And that family produced a great sage – Dr. Mana Bajra Bajracharya – who over a period of 40 years wrote down in great detail all his knowledge and all his methods of treating disease.
This first book is but one of the 47 books written by Dr. Mana.
Alan Tillotson
January 9th, 2010
Wilmington DE USA